Words by Declan Whelan // Images by Cole Bennetts
The king of Aus rap is still sick, and we're not talking about corona.
Coming up on a decade in the game, Kerser delivers his ninth studio album, Roll The Dice, in typically Kerser fashion. A mix of sample based sounds, crashing 808s, gutter raps and a dash of EDM, there's no arguing with Kerser's desire to leave no stone unturned. That as much as anything has been the hallmark of his career, throughout which he's been on the frontline for Australian rap and taken risks at every turn with his blurring of genre boundaries, raw lyrical content and a total disregard for the radio route favoured by Triple J's 2010s hip-hop mainstays.
By his design, the blueprint for independent success, and what an Australian rapper should look or sound like, has been redrawn and reimagined entirely. The undisputed king of Aus, who also amusingly holds the dubious title for JB HiFi's most stolen album and one time defended Bizarre from D12's offensive lyrics on national television, above all, Kerser's unrelenting and fabled pursuit of ten albums in ten years continues. Practising social distancing, we caught up with the Campbelltown-bred legend via phone to get the low on his latest album, isolation and what he makes of the present state of rap in Australia. Check it out below:
Congrats first of all on the release of 'Roll The Dice'. Tell us a bit about the album.
So as most people know it's a yearly tradition to drop an album and this was the ninth time around, album number nine. There was a lot of shit going on at the time we were making it, you know there was fires down here, and stuff with my daughter, just a lot of shit, and I have a pretty busy life already so that time was crazy busy and it was a roll of the dice just putting the album together. When I was naming it I thought yeah, Roll The Dice. Then me and Open Till L8 started bouncing ideas for beats and finally put together something we're both really proud of.
Some of our readers might not know who Open Till L8 is – he's probably more of a behind the scenes figure in our scene but he seems to have his hands on everything at the moment. How did you two link up and what's that working relationship like?
Yeah his hands are on everything, bro. We had mutual friends – Gunsta, from Hustle Hard TV and [Stefan] Guzman who's doing my clips – and for years I was hearing, "You gotta check his work, you gotta work with him". At the time I was working with Nebs and then I toured and hooked up with this producer overseas, Sinima, and did two albums with him, so then by the time I got round to checking him out I was trying to find someone to do a 'Deadset'.
He sent through this mad version and it made me wonder what other styles he could do. From there I started sending references for him and he'd send something crazy back so I went up to see him and we started vibing straight away. He went back through my catalogue and kind of found my sound, and he just put his whole twist on it. He understands exactly where I want to go with it and it just works well.
As soon as I saw the tracklist for Roll The Dice my interest was piqued by the Morrison feature on 'Pray I Get Home'. How did that come together?
So I've been talking to Morrison since about 2013. A mate of mine found him in about 2010 on YouTube and I remember having sessions where we'd kick back pumping Morrison. We love that underground street shit and this is going back ten years but in like 2013 I was kicking back at home vibing to Morrison and made a post on Instagram. He must have been getting tagged in that because ever since then we've been talking.
This track is literally seven years in the making. We were saying recently that if we scroll back there's talk from like 2014 and 2015 of us making a track and how to have finally done it now is just perfect timing. In all honesty, he did me an honour because he's massive over there. He did me a real solid by jumping on it, so shoutout to Morrison.
That's crazy. The perfect timing thing is funny too when you think about the impact or how that type of song might have been received in 2015 and where drill is at right now.
Yeah and that was his idea. The collab was in motion and it was gonna go on my album so I told him I'd get a beat sent to him and he was like, "Nah, I'll pick the beat bro. I've got a vision in my head." For me, I was getting fucking Morrison on my track so of course he could pick the beat, you know what I mean? Like go do your thing. I trust him. He sent through the beat with his verse on it, which was hectic and that's the verse we used, but from there I had to write my verse and obviously it was a drill track. It was different for me but at least it's like everyone's into drill now.
I think he picked up on that. Knowing that drill is popping off on both sides for us. Looking back on it I'm really glad he chose that beat because it was something new to me and it means that I've got pretty much every style on my album. [Laughs] There wouldn't have been a drill track on there if Morrison wasn't on it.
The album's got plenty of heaters and that one obviously stood out to me but are there any songs on there that you're particularly proud of or that you felt you were able to show a different side than you have on previous records?
Yeah a few. That drill one for one. I was actually going to scratch 'Why You?' from the album because I wasn't sure if it was the right way to end it or if it was strong enough, but when I listen back now, thank fuck I didn't. So many people bring that song up. I'm pretty proud of that song. Not everything about it, but I really love the fact that there was a good concept, that split between questions and answers in the verses, and I love that it was meaningful and deep. I like 'Stay Fly' as well. That's one of my favourites too because I love getting high and listening to that type of shit and that melodic style is another one that's a different style for me.
The whole album. I'm really proud of this one. 'Rap Now' with Rates; just the beat on that, and I'm proud that I can still keep it hip-hop with deep 808s and shit, and make a song pop. Yo and 'Never Took A L', I really switched my flow up on that and as an album intro it's just hyped as fuck. [Laughs] 'In The Meantime' too, without blowing my own horn, I really love this album. Working with Calicoe on 'Got Me Thinkin' was crazy too, because that's been on my bucketlist. He's in my top five all-time.
Who else you got?
Oh no [laughs]. Ok Fabolous, Eminem, Tupac and . . . then there's too many for that other spot.
I know. The fifth spot is the hardest because then you're thinking about who you have to leave out. Let's just leave it as four.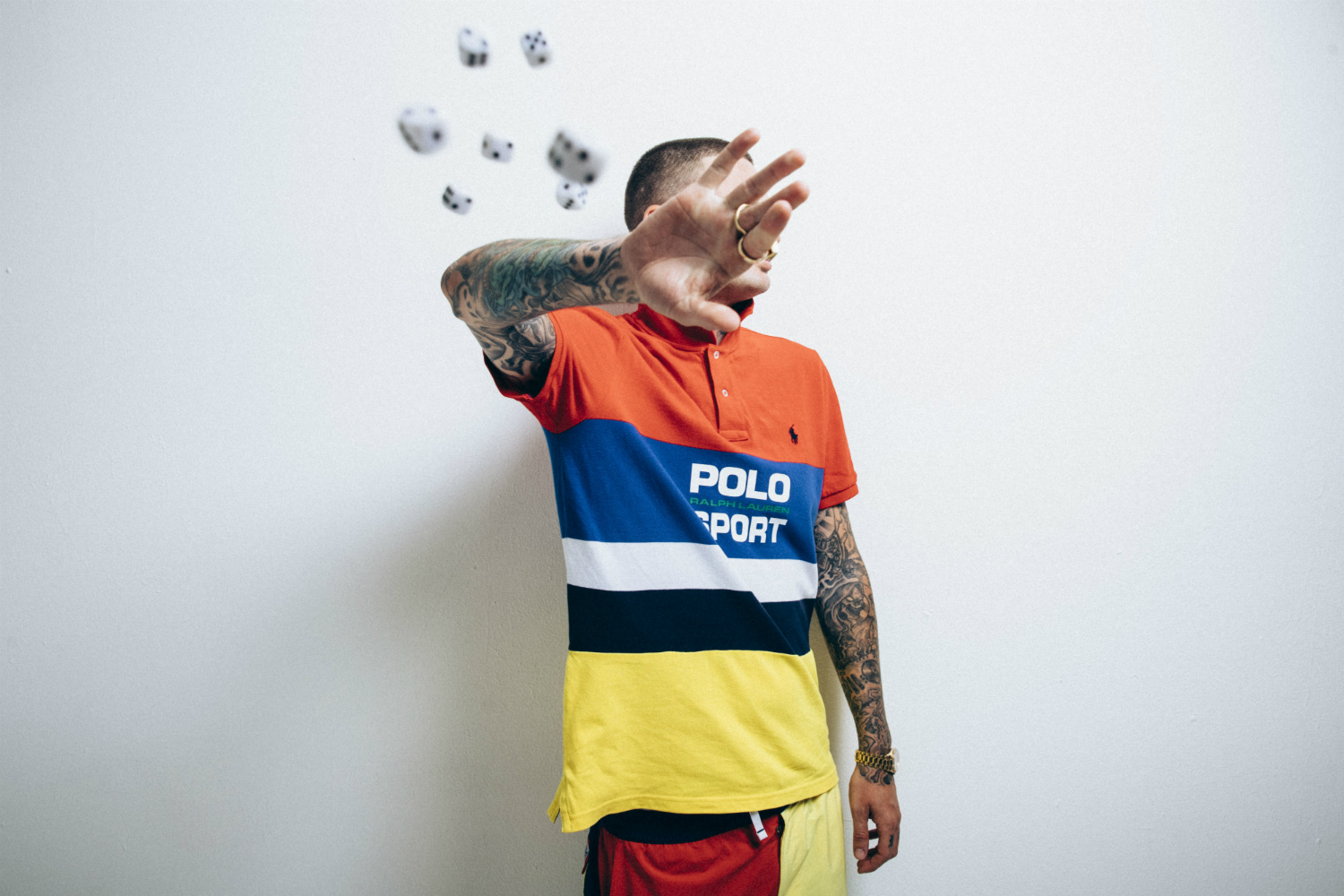 Album nine, coming up on ten years in the game, how do you think your approach to music has changed in that time?
Good question. I think at the start the way I put shit out was like a promo song a month, and then album one which was 19 tracks and through that I was thinking about doing another promo a month and just constantly working on and releasing something. Now I feel like all that hard work has paid off and I can just chill a bit and just do an album a year. Maybe a promo here and there. It's kind of like, just being able to kick back a bit more. I was going really hard for years and years.
It seems crazy to me that your idea of kicking back and chilling is to 'just' do an album a year, but I hear what you're saying. There's an element of once you have put in the work and have that platform that you have the luxury of keeping people waiting and making them miss you a little bit, which you maybe didn't have earlier in your career.
Yeah that's a huge part of it. Without doing the work to begin with you can't take your foot off. But that's exactly what it is now, I've gotta make them miss me a little bit and get in my own zone, and focus completely on the music. Behind the scenes I'm still really working hard on this shit. It's just now I'm maybe holding on to things a little longer. Before I'd record something and drop it straight away. Now I've got the chance to sit with it, scrap a song, do a verse again if I want to, and I didn't really work like that.
How does that translate into the music? Has that elevated the standard do you think?
Yeah definitely. Now it's more elevated and more thoughtful. Before I was doing so many tracks that sometimes the subject matter was everywhere. With this last album I still got my smartass shit on there but I've got some deep shit, and all different styles. [Laughs] I've even got some EDM on there. I've had comments from people thinking that's like a newer inclusion to my catalogue but even Nebulizer was full of those types of songs. Even before that, I was mixing and using that kind of style on my mixtapes.
100%. And I think looking back through your catalogue that's part of your legacy and the blueprint for where rap music is in Australia right now, especially when you look at Western Sydney artists and how rap can mesh and drop into EDM or hardstyle or anything really.
Yeah I'd say I took a few bullets for the scene. I took a lot of risks and brought of eyes on the scene but that whole blueprint has influenced a lot of younger artists, whether they know it or not. They could have got it from someone else who got it from me, you know what I'm saying?
Bringing things full circle, those risks are all times you've rolled the dice. One way or another, there's definitely more eyes on rap music in Australia right now than ever before. When you look at the state of the culture what do you see?
Evolution bro. Just look at how much things have blown up even in the last three years, let alone from when I started out. Rappers are more versatile now. Back in the day there was one standard sound that was Australian hip-hop. Now it's so versatile. You've got people doing drill, trap, like raw boom bap and everything. There's just so many styles that have come into play and I think yeah, it's in a really good state at the moment.
We were lacking that variety and now we've broken free from that tag of Aussie hip-hop and what people expect that to sound like. And yeah, for the people that are representing each genre, I think it's in a really good state. We're almost at a point where your mates are more likely to show you a new artist from Aus than they are to show you someone from overseas. It's crazy.
If you were to give advice to aspiring artists in 2020, are there particular mediums or milestones you think they should be looking to?
It's such a different way to go now than when I started out. It was straight to YouTube before but now you've got Spotify and everything streaming where you're not pushing people to buy copies and it's just more about streaming. To tell you the truth, my head is not that plugged in to the scene, and I've kind of got tunnel vision, but what I have seen is that younger artists are doing it a similar way to how I was but using those services to their advantage as well. That wasn't around when I was first releasing stuff. It's similar but those services can play a huge part in getting people out there and if you're added to a playlist there's a whole new audience worldwide. It's crazy actually and can open a lot of doors.
The advice that I would give is to really keep your foot on their neck. Be consistent and just keep releasing shit, and making sure you're in their face and staying busy. Be a topic of discussion and I don't mean by starting beef – that's a ridiculous way of trying to gain fame or whatever – but if people can be a topic of discussion just through their music. I'd love to see more deep shit come from Australia too. I know there's people doing that, but I'd love to see more people spilling their heart out.
Given the current circumstances you've had to postpone your 'Roll The Dice Tour'. We know you'll be back on the road as soon as you possibly can but something that always gets your fanbase going around album and tour time is the inevitable 'Deadset' release. What goes into the selection process when picking a sample for the 'Deadset' series?
You mean the first sample? The one at the start?
Yeah, I can't imagine too many rappers getting away with flipping a Pete Murray joint.
[Laughs] No way. Most c––ts would get roasted. So I listen to all different styles of music; I might listen to Powderfinger or Pete Murray, I go everywhere with my music. All year, every time like a 2000s coastal rock kind of song comes on, or something that reminds of that vibe, or the beach or paradise – so that when the beat drops it's really fucking out of the blue – every rock song I hear like that, I'll add to notes in my phone. At the end of the year I'll go through them and literally have about 20 songs to pick from.
Talking about 'Deadset', that's probably one of the smartest moves I made in my career. Punchlines I don't get to write on the album, get a run on 'Deadset' where it's no holds barred. It's made for that. Letting loose and letting them know that there's a party coming to your state. I enjoy writing those and then performing them is another thing. That also comes into the selection for a 'Deadset' intro: "How's it going to sound with fans singing that back?" So I picture a bunch of Kerser fans singing Pete Murray and think, "Is this actually going to fucking work?" and believe it or not every single one I've picked has worked in that way. It just works. I guess that's another risk, another roll of the dice, but my fans have always got me.
The last thing I wanted to ask is kind of contextualised by this weird, scary time we're living through. I'm wondering what you've been up to, to stay busy and safe during isolation?
I'm pretty luck where I am. My place kind of backs on to the water so I can at least get out of the house and jump in the water. Other than that, it's pretty dead around here. I've just been writing, even though the album just came out and that might sound a bit crazy, but I've been writing, listening to music and looking for the next 'Deadset' on the sly, I've got a PS4 I need to set up. I've got NRL and UFC I'm ready to have a go at on that, so that's probably going to take up a lot of my time.
I've been watching a lot of documentaries, so yeah I'm pretty much in the same boat as everyone else and just wanting this to pass and for life to go back to normal. At the same time I'm blessed to be where I am and am just trying to do the right thing and still feel like I've done something with my day.
Thank you so much for your time, is there anything else you wanted to touch on before I let you go?
Yeah just that the 'Roll The Dice Tour' is still happening. It's just been postponed obviously because of everything that's going on. We've got tentative dates, but I can't reveal those just yet because I would hate to have to postpone again but yeah, it's definitely happening. And yeah, keep buying and streaming the album and I hope everyone is enjoying it. Once we can finally get on tour, we'll make up for this time spent in isolation.